13th Workshop on Combined Analysis Using Ray Scattering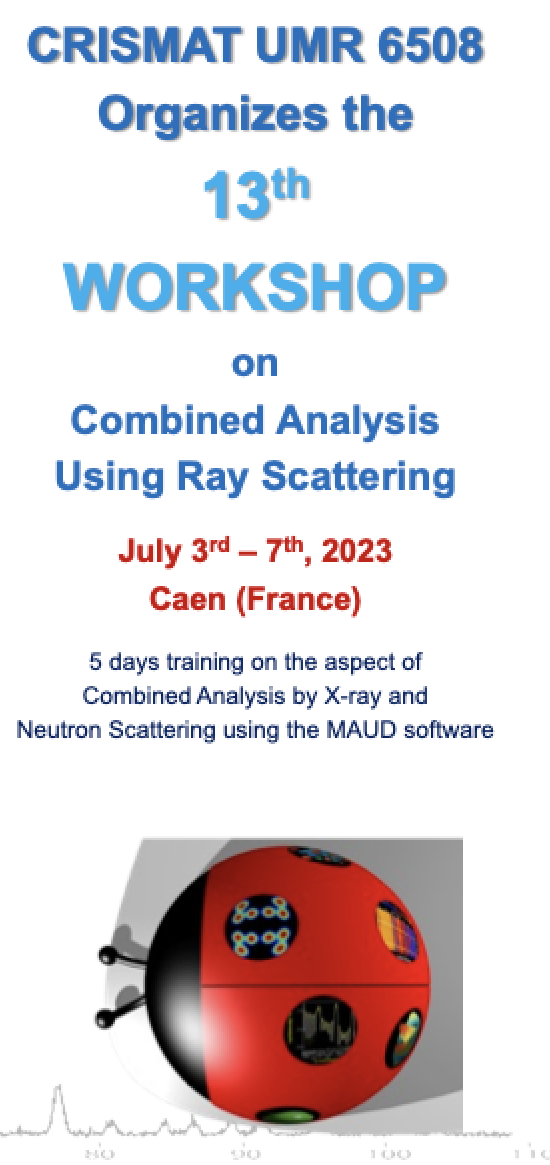 CRISMAT UMR 6508 organizes the 13th workshop on Combined Analysis Using Ray Scattering
📍 July 3rd – 7th, 2023 Caen (France)
Objectives
This intemational school covers many aspects of the "Combined Analysis" methodology using x-Ray, neutron and electron scattering, and X-ray fluorescence applied to material science. Fundamental to technical aspects relevant to industrial and academic applications are targeted.
The combined analysis method Is developed for more than 20 years. Ground on the whole pattem fitting using the Rietveld method, it incorporates texture, microstructure, phase, layering, residual stress analyses. together with X-ray reflectivity and fluorescence and electron diffraction
The aim is to give students. academic and non-academic researchers the necessary tools to be able to characterize their own samples using the Combined Analysis method and the software MAUD. The characterization involves obtaining information on the structure, microstructure, phase and elemental content, texture, stress in different kind of samples and structures including: thin films, bulk materials, anisotropic materials, poly-phased materials, nano-materials, etc.
The objective is to bring together participants trom various fields and to provide an opportunity to discuss individual interests and experience.
Topics
Each type of analysis will be considered individually for the proper technique and then integrated into the MAUD
Combined Analysis software. Some specific examples will be studied using X-Ray and neutron experimental data.
Diffraction techniques, overview
Crystallographic Texture Analysis
Residual Stress Analysis
Rietveld analysis
Reflectivity analysis
Phase analysis
Line broadening analysis
XRD & XRF combined analysis
Pre-requisites
Basic knowledge of crystallography and diffraction techniques
Good practice in the use of computers
Your laptop for the practicals
MAUD (Materials Analysis Using Diffraction):  http://maud.radiographema.eu/
Informations link: http://www.ecole.ensicaen.fr/~chateign/formation/
Registration link: registration begins 13th March
French: https://www.azur-colloque.fr/DR16/inscription/inscription/21/fr
English: https://www.azur-colloque.fr/DR16/inscription/inscription/21